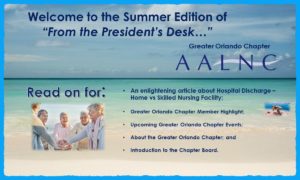 Hospital Discharge:  Home versus Skilled Nursing Facility
 by Tory Palivoda, BS, RN, LNCC

Since the introduction of the prospective payment system (PPS), hospitals have had a financial incentive to discharge patients quickly because Medicare, for the most part, pays a fixed rate for hospitalizations without regard to the length of stay. Many discharge planners view their roles as cost control. When the discharge is not to a skilled nursing facility (SNF), followup for unresolved medical problems is critical. Post-hospital acuity levels have increased, resulting in more complex arrangements and increased teaching needs for patients and family caregivers.
To facilitate an appropriate discharge from the hospital, the Center for Medicare and Medicaid Services (CMS) has the following regulation in effect:
42 CFR § 482.43 – Condition of participation:  Discharge planning. The hospital must have an effective discharge planning process that focuses on the patient's goals and treatment preferences and includes the patient and his or her caregivers/support person(s) as active partners in the discharge planning for post-discharge care. The discharge planning process and the discharge plan must be consistent with the patient's goals for care and his or her treatment preferences, ensure an effective transition of the patient from hospital to post-discharge care, and reduce the factors leading to preventable hospital readmissions.
In 2019, Rachel M. Werner, MD, PhD, et. al., conducted a study to investigate the association of patient outcomes and Medicare costs of discharge home with home health care vs. discharge to a SNF. The study included more than 17 million hospitalizations from January 1, 2010 through December 31, 2016. The researchers found that over thirty-eight percent (38.8%) of the patients were discharged home with home health, and 61.2% were discharged to a SNF. The patients discharged home experienced a 5.6% higher readmission rate at 30 days than those discharged to a SNF. There were no significant differences in 30-day mortality rates or improved functional status. Medicare payments for post-acute care were significantly lower for those discharged home than for those discharged to a SNF.
In a February 15, 2023 article in Skilled Nursing News, author Andrew Donlan wrote that skilled nursing facilities consistently received a higher share of hospital discharges compared to home healthcare agencies towards the last quarter of 2021 and the beginning of the first quarter of 2022. This was a shift from the home health trend in the early days of the COVID pandemic. However, signs suggest home health referrals are much higher overall than before the pandemic.
Even if demand for home health services is increasing, that demand for agencies' bottom lines is all based on staffing capacity. In January 2022, the industry's referral rejection rate had reached 58%, according to Tom Martin, the director of post-acute care analytics at WellSky. Mr. Martin noted, "This is telling us that [providers] can't take this high volume of patients looking for home health services, and they're starting to turn down more and more patients from their referral partners."
When patients enter a healthcare facility, they aim to become well again and go home. While increasing disease burden and rising healthcare costs in the U.S. have already contributed to a boost in care at home services, the COVID-19 pandemic has created a catalyst to reimagine their future. Based on a survey of physicians who serve predominantly Medicare fee-for-service (FFS) and Medicare Advantage (MA) patients, it is estimated that up to $265 Billion worth of care services (representing up to 25% of the total cost of care) for Medicare FFS and MA, beneficiaries could shift from traditional facilities to the home by 2025 without a reduction in quality or access. Factors that have created the opportunity for more care at home, including the growth in virtual care, remote monitoring, telehealth, social support and home modifications, may enable more patients to receive some level of care at home. Care at home could improve the quality of care and the patient experience by providing patients with care in the comfort of their homes and by potentially reducing preventable adverse health events.
Factors that could affect the adoptions of the growth of home care services are dependent on: 
Evaluating the services that can be delivered at home.
Economic viability for the healthcare facilities and physician groups.
Physician awareness, perceptions, and capabilities.
How patients feel about homecare.
While the COVID-19 pandemic has created a catalyst to fundamentally reimagine care at home and help improve the quality of care and patient experience, it has also created potential value for payers, healthcare facilities, physician groups, care at home providers, technology companies, and investors. The ultimate value will depend on a variety of factors that are in the hands of stakeholders.
(Sources for this article are included in the Side Bar.)
Tory Palivoda, BS, RN, LNCC
President, Greater Orlando Chapter of AALNC
_________________________________________________________________________
MEMBER HIGHLIGHT
Jason Yaxley, RN

Jason is the Owner and Lead Nurse Consultant at Yaxley Legal Nurse Consultant, LLC. Prior to becoming a legal nurse consultant (LNC), Jason started his medical profession as a paramedic in Miami and Orlando, Florida, for nearly seven years. In 2010, he furthered his career by becoming a Registered Nurse and began working as a PCU Nurse. However, Emergency Medicine was calling Jason back to the fast-paced, controlled chaos of the Emergency Room. While serving the Emergency Department for nearly a decade, Jason climbed the corporate ladder and assisted in the opening of two brand new free-standing Emergency Rooms in central Florida. He initially served as the Charge Nurse, but quickly became the Emergency Department Manager of one of the free-standing Emergency Rooms. Always seeking further growth, in January 2022, Jason started his LNC journey after completing a certificate course to become Legal Nurse Consultant. He has continued expanding on his LNC education and has developed his LNC company. Jason became a member of AALNC, as well as the Greater Orlando Chapter, and has become an affiliate of the LNC Exchange. He strives to provide his clients the best possible service and looks forward to growing as an LNC.
________________________________________________________________________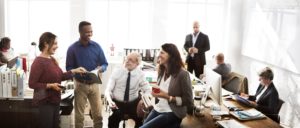 NETWORKING AND PROFESSIONAL DEVELOPMENT
Why is it so important?
In a blog by Harvard Division of Continuing Education, Lian Parsons says that professional development is important because it has the potential to open opportunities for career advancement, help professionals stay up to date with industry trends and can assist in honing existing skills and in learning new ones.
AALNC and the Chapters are THE GO TO sources for networking and professional development in the field of legal nurse consulting. Want to learn of career opportunities? Want to stay up to date with the LNC industry trends? Want to hone your LNC skills and learn new ones?  Then go to AALNC at https://aalnc.org and join now! Then go to https://orlandoaalnc.org and join our Chapter!
WE ARE NEAR YOU! Maybe not geographically, but through your computer or phone. The Greater Orlando Chapter has members in 31 States and Canada! SINCE 2014, The Greater Orlando Chapter's live Chapter Meetings with CE Programs have been broadcast virtually! So members and guests have been attending from all over the Country since then! Because of COVID, since 2020 all of our CE Programs have been virtual only. If we start meeting in person again, you can still attend from anywhere as we will continue to broadcast all of our meetings and CE Programs as Webinars!
Regarding Greater Orlando Chapter Membership Cycle: Our membership year goes from May to May of each year, with membership renewal being May 31. With this cycle, members who joined in 2023, will renew their membership NLT May 31, 2024. Contact us if you have questions!
CONTACT US NOW:
Email us at:  info@orlandoaalnc.org
Or visit us at:  https://orlandoaalnc.org
___________________________________________________________
CONNECT WITH THE GREATER ORLANDO CHAPTER


Resources for Hospital Discharge:
Home vs SNF
Werner RM, et.al. Patient Outcomes After Hospital Discharge to Home With Home Health Care vs to a Skilled Nursing Facility. JAMA Intern Med. 2019;179(5):617–623. doi:10.1001/jamainternmed.2018.7998, https://jamanetwork.com/journals/jamainternalmedicine/fullarticle/2727848
Donlan A, Skilled Nursing News, February 15, 2023; https://skillednursingnews.com/2023/02/snfs-overtake-home-health-care-in-admissions-as-hospital-discharges-normalize/
Bestsennyy O., et.al. From Facility to home: How healthcare could shift by 2025, McKinsey & Company. https://www.mckinsey.com/industries/healthcare/our-insights/from-facility-to-home-how-healthcare-could-shift-by-2025
_____________________________
Be sure to check out our new publication, "SAVE THE DATES." This new publication includes LNC education programs offered by AALNC, and ALL of the AALNC Chapters! We are so excited for this joint Chapter activity! Watch for the next edition, coming to your inbox soon!
The Greater Orlando Chapter's Fall 2023 CE Program Schedule is posted on our website, so mark your calendars these upcoming events:
August 15, 2023 Chapter Update and CE Webinar, "High Risk, Low Risk, Risk is Risk in OB", presented by Sharla Paso, DNP, RNC-OB.
September 19, 2023 Chapter Update and CE Webinar, "Legal Implications Surrounding Pressure Wounds", presented by Walter Conlan, MD.
October 17, 2023 Chapter Update and CE Webinar, "Lessons Learned Growing an LNC, TE, and Mediation Business", presented by Jaimee Gerrie, MSN, RN, CPPS, MCPMT.
November 7, 2023 Chapter Update and CE Webinar, We are confirming our speaker for this webinar, but you can bet it will be great!
The Greater Orlando Chapter of AALNC is an approved provider of Nursing CE through the Florida Board of Nursing and CE Broker, and approved by the following States: Arkansas, District of Columbia, Florida, Georgia, Mississippi, New Mexico, South Carolina and West Virginia. We report CE directly to CE Broker in these states. For attendees from other States, we provide required documents for self-reporting CE to State Boards of Nursing.
_________________________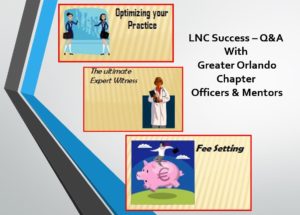 In 2021 we started a new program, "LNC Success – Q&A with Greater Orlando Chapter Officers and Mentors." We limit the event to 10 participants, so we can mentor each attendee – whether new to the LNC practice or experienced and ready for a change – we are there for you! The 2023 dates are loaded on our website and the remainind dates include:
July 11, 2023
September 12, 2023
November 28, 2023
________________________
MEET THE 2023 GREATER ORLANDO CHAPTER OFFICERS AND DIRECTORS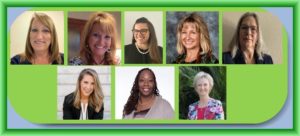 President:  Tory Palivoda, BS, RN, LNCC
President Elect:  Robin Axtell, BSN, RN, LNCC
Immediate Past President:  Jillian Talento, BSN, RN, CEN, LNCC
Secretary:  Michelle Gaines, MNA, RN, CRNA
Treasurer:  Patty Mitchell, BSN, RN, CLNC
DAL:  Alyssa Brandeberry, RN, LNCC
DAL:  Kenyetta Christmas, MSN, RN, ACNP-BC, CLNC
DAL:  Judy A. Young, MSN, MHL, RN, LNCC
____________________________
ABOUT THE GREATER ORLANDO CHAPTER OF AALNC
The American Association of Legal Nurse Consultants (AALNC) was founded in 1989, as a not for profit membership organization dedicated to the professional enhancement and growth of registered nurses practicing in the specialty of legal nurse consulting. Chapter development quickly followed. The Orlando community was rich with nurses already practicing in the field of legal nursing. This group of committed professionals quickly became members of the new national organization and recognized the need for a local chapter. The Greater Orlando Chapter of AALNC, founded in 1989, was the second chapter formed under the new national organization. The Chapter was begun in support of AALNC's mission, by providing networking opportunities, mentoring and support to nurses through professional development and education – a mission that is continued to this day.